The Hierarchy of the Association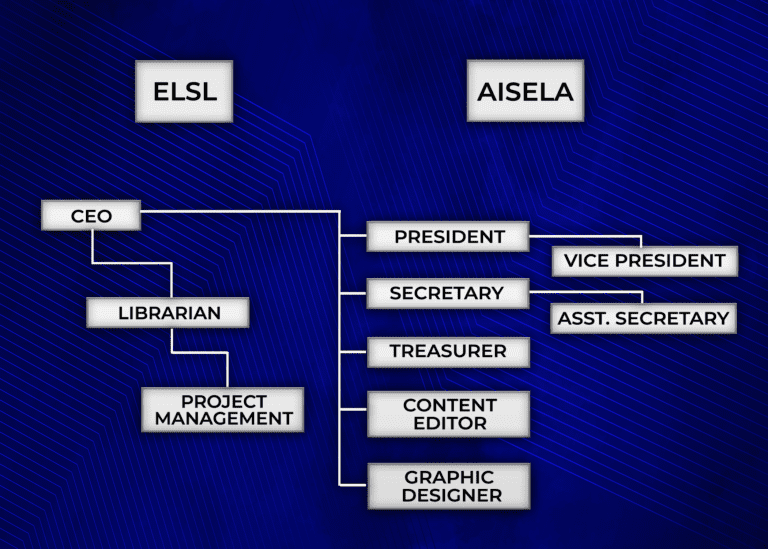 The Office Bearers for the year 2023/24
Eleanore Waidyaratne is the dynamic and visionary president of AISELA for the year 2023. As a brilliant student at Musaeus College Colombo, Eleanore brings her wealth of experience, unique perspectives, and creative flair to every aspect of the Association. She's pursuing advanced levels in both national and international curricula and giving leadership to a plethora of clubs at her school. Her deep passion for literature as well as the monetary and financial economy, along with her impressive achievements, including winning an all-island award for Technology and a zonal-level award for English oratory, proves her exceptional skills and talents are unparalleled. Under her leadership, AISELA is poised to be a hub of innovation and creativity. Her vision for AISELA is to create a space where students can come together to share their love of literature. Her unwavering dedication and infectious enthusiasm will steer AISELA towards greater success.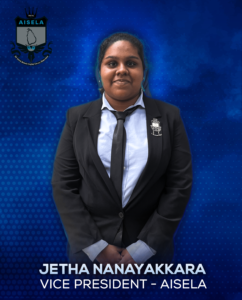 Jetha Nanayakkare is the diligent vice president of AISELA for the year 2023 and a gifted student of Vishakha Vidyalaya Colombo. Jetha is an enthusiastic leader with a passion for literature and a keen eye for fresh and innovative ideas. She's an amazing poet, and as the secretary of the English Literary Association of her alma mater, she has honed her skills in seeking out new ways to inspire others to explore the world of literature. Working closely with the president, Eleanore, Jetha helps to create a vibrant and dynamic literary community at island-wide schools through AISELA, and she's committed to making AISELA a place where this vision can become a reality.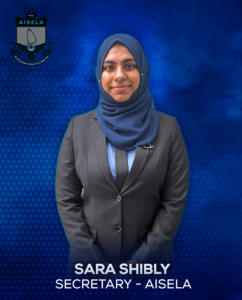 Sara Shibly is the remarkable Secretary of AISELA for the year 2023. This multi-talented personality is an outstanding student at Methodist College Colombo. Sara is a true trailblazer in the world of MUN and beyond. Her achievements of being in the top 15 in the All Island Blogging Competition by AIESEC and winning first place in the All-Island Grammar Competition hosted by AISELA prove her unique talents are unmatched. As the President of the United Nations Club, a Sub-Committee member of the Animal Welfare Club at school, and Deputy Director of Planning at Pioneers Youth, Sara is a true leader with a passion for excellence. Her exceptional skills in writing, public speaking, and debating, coupled with her experience working with public figures, make her the perfect fit to lead AISELA to even greater heights.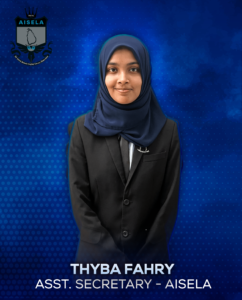 Unlocking the power of language and igniting the flames of creativity—that's what the Assistant Secretary of AISELA, Thyba, does best! Thyba Fahry is an exceptional student at Hillwood College Kandy with a passion for reading, drama, speech, and writing. She is a true visionary, constantly pushing the boundaries of what's possible with words. Her achievement of 1st place in Provincial Level English Creative Writing is a testament to her talent and dedication to the craft. As the Secretary-General of the MUN club in school and the Editor of the College Annual Magazine, she has honed her leadership skills and learned how to navigate even the most complex of challenges with ease. Collaborating with the esteemed Secretary Sara and the rest of the team, Thyba is sure to continue making waves and leaving a lasting impact.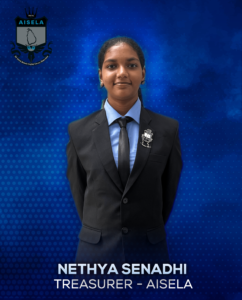 Where finance meets creativity and leadership, Nethya Senadhi, our Treasurer, is the perfect balance of it all. She is a talented student at Mahamaya Girls' College in Kandy. With her sharp financial acumen, she ensures the smooth functioning of AISELA's financial transactions and fundraising efforts. By being an All-Island gold medalist in Taekwondo and a winner of first place in the All-Island inter-school media competition in the English editing category, Nethya has proven her superior talents and skills. Her passion for poetry, painting, and drama adds an artistic touch to her work. As the Vice Secretary of the Social Science Society, Editor of the Photographic Society, and Organiser of the Society of Sociology at her alma mater, Nethya's leadership qualities and teamwork skills are unparalleled. AISELA is proud to have Nethya as the Treasurer, who brings together the best of both worlds: finance and creativity.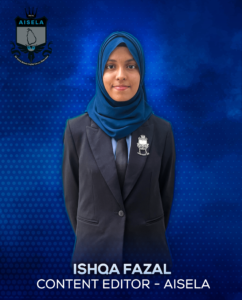 Introducing Ishqa Fazal, the word wizard of Yasodara Vidyalaya Colombo and the creative content editor of AISELA, whose pen knows no boundaries. Her love for books and the written word is evident in everything she does. As the content editor of the association, Ishqa brings a fresh perspective and a unique voice to every piece she writes. Ishqa's impressive list of accolades, including provincial-level awards for creative writing and awards for excellence in reading and writing, make her a true wizard of the written word. As the President of the school's English Literary Association and a member of the school media unit, Ishqa's talent for captivating audiences extends beyond the page, earning her a spot in the Top 10 of the All-Island English Announcing Competition. Her talents and dedication are sure to shine through in every project AISELA takes on.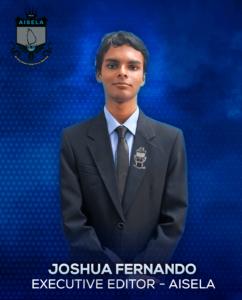 Joshua Fernando is the brilliant Executive Editor of AISELA and a talented student from St.Joseph's College, Colombo. With a deep passion for graphic design, video editing, and music production, Joshua's creative talents are second to none. His love for literature, drama, and debating adds to his multifaceted skillset, making him an invaluable asset to AISELA. As the Editor of the General Knowledge Club in school, Joshua has honed his editorial skills, which he will use to develop AISELA's media presence. With his keen eye for design and his dedication to excellence, Joshua is sure to take AISELA's graphic design to the next level.
The Office Bearers for the year 2021/22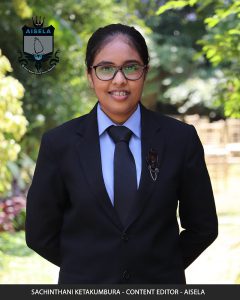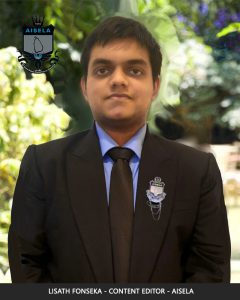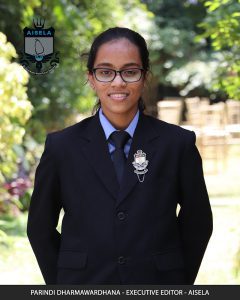 The Head of Public Relations